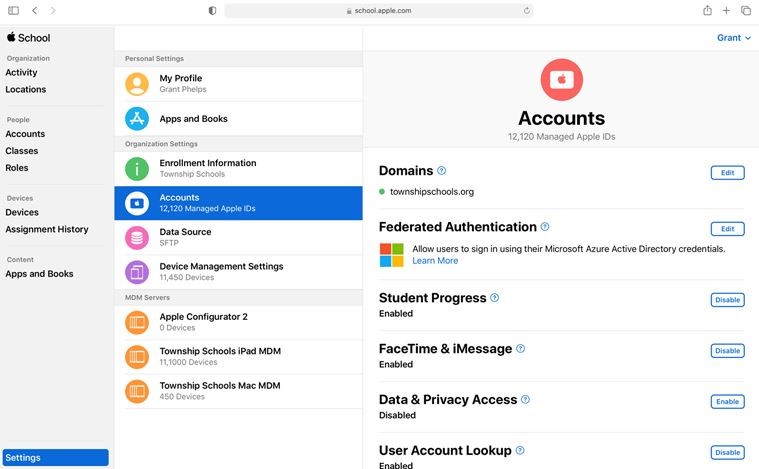 Apple School Manager is a web-based tool designed to help out school administrations and students. You can avail Apple services for schoolchildren and employees, set up devices, obtain applications and books and allow teachers to create exciting learning experiences – all from a single place.
The Apple School Manager (ASM) is an online cloud-based platform allowing Apple devices in schools to be configured, deployed, and managed. It combines Apple's VPP and DEP with features like Managed Apple IDs to improve the deployment and distribution of content.
It can provide zero-touch enrollment and automatic distribution of device settings and apps, Apple School Manager (ASM) promotes mobile devices in schools and other educational institutions. In essence, the Apple School Manager is a service that enables Students to use Apple devices in their schools and helps teachers Research prospect and acquiring low-stress high-paying jobs.
What are the benefits of using Apple School Manager?
For educational institutions, the Apple School Manager (ASM) provides iPads and MacBook's to the learners and simplifies the distribution of such appliances. The advantages of Apple School Manager configuration are:
Provision of Shared iPads: Apple School Manager provides school students with shared iPads that provide total data safety and user privacy.
Managed Apple ID: Creates a managed Apple ID that allows new access to various Apple services, such as iTunes, iCloud, and Shared iPad, to all students enrolled to the Apple School Manager. It also allows provisioning without an Apple ID.
Integration with the Apple Classroom application: It connects with the Apple Classroom and enables students and their chosen instructors to establish virtual classrooms.
Simplified distribution of applications and content enables IT admins to buy and share apps and content seamlessly on student devices.
What features does Apple School Manager provide?
To provide the users with unique learning and classroom experience. Apple School Manager supports the following features:
Apple Volume Purchase Program (VPP)
Federated Authentication
Apple Device Enrollment Program (DEP)
Role-based authentication
Classroom tools (Classroom/Schoolwork apps, Share iPads)
Administrative tools (Accounts, Locations, Roles, Classes)
Data source integrations (SIS, SCIM, SFTP)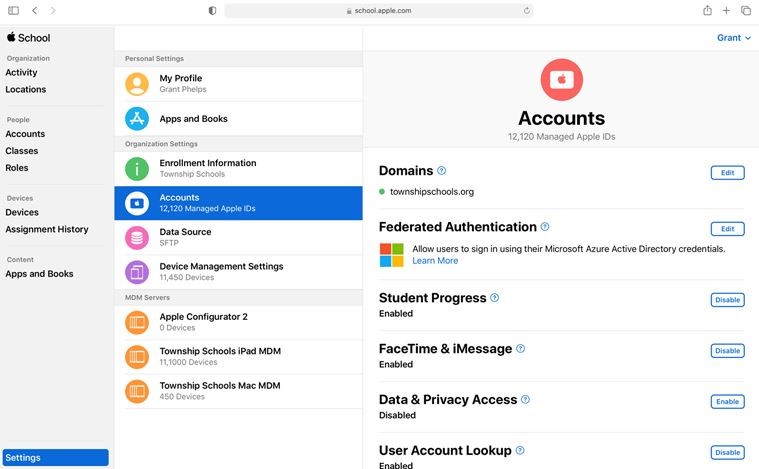 What is Apple DEP (Device Enrollment Program)?
DEP is an online tool for the configuration and deployment of Apple devices incorporated into the Apple School Manager. It facilitates the deployment of the device by reduction of the registration procedures. DEP enables over-air monitoring of iOS devices, which otherwise allows access to sophisticated limitations and rules. This deployment campaign is generally utilized hand in hand to guarantee large volumes of Apple devices enrolled in the air for its consumers using Mobile Device Management solutions.
What is VPP (Volume Purchase Program)?
VPP is an online web platform for your organization to acquire, manage and distribute overwhelmingly material built into Apple School Manager. VPP allows different payment mechanisms, including licensing distributions with redeemable codes, for worldwide licensing. It also allows users to buy customized applications approved by Apple via the VPP app store. The Apps and Books category in ASM lets you examine any software and books you purchase, acquires new application licenses and transfer licenses from school to school.
What are shared iPads and Managed Apple ids?
Shared iPads allow your school to create an environment for multiple learners to use on an iPad. Configuring iPads for shared usage enables students to check-in using Apple Managed IDs to respective accounts on these gadgets. ASM can be connected to SIS, Azure AD, imported accounts via SFTP or manually generated. Depending on how you manage Apple School Manager, the shared iPad signup procedure is different.
Apple Managed IDs are specifically established identities for businesses allowing users to access safe applications and information stored on the iCloud drive of your school. It protects user information and will enable students to work with applications and services from Apple. These IDs are generated when you connect the Apple School Manager to an SFTP, SIS, or Azure AD domain.
Apple School Manager is an essential tool for automation in classroom inscription and content management with all these excellent features.
Know more here about Managed Apple ID