Apple released a new processor for its mac devices back in November 2020. Apple is moving away from Intel and switching to ARM-based Apple silicon chips for future Macs. The new processor offers better power management, better speed, and a bunch of other features.
What is the M1 System on Chip?
Apple M1 silicon is an SoC that is a system in a chip. All the standard components are cramped in a single chip.  It will completely transit away from the Intel chips that are being used in current Macs. Apple announced the first generation of M processors along with the new models of MacBook Pro, Air, and Mini devices.
Apple has been using this silicon feature for security purposes in IOS devices for years. Apple also uses these features for Macs' security features with their custom T1 and T2 chips, which work alongside Intel processors.
SoC Explained
With the launch of a new silicon processor, there is no need for separate T2 chips. It's all built into one SoC, which will allow more enhanced security features. Apple claims that the M1 processor will provide the best and fastest graphics performance and performance per watt. Moreover, Apple won't be tied to Intel's product release scheduling anymore, nor will it be restricted by those chips' thermal output. All will be in Apple's control.
M1 is a five-nanometer chip with eight total cores. There is a whole system on a chip, an 8-core CPU, an integrated GPU, a 16-core neural engine, and the RAM. All the components, being merged in the same space, respond to each other quickly and efficiently. The controllers and processors are also built inside.
Neural Engine
Apple is including a neural engine in Mac's chipset, which will accelerate the machine learning tasks. 16- core built-in neural engine is capable of doing 11 trillion operations per second. Compared to the previous generation, this neural engine has 15 times faster machine learning performance.
High-performance GPU
The high-performance graphics card will accelerate the pro apps and games. It is combined with a unified memory architecture, which allows GPU to access memory insanely fast. In all the mac's higher-end devices, the silicon chip has an 8-core graphics card that can run simultaneously almost 25000 threads. Apple claims that the M1 chip has the fastest integrated graphics uphill now in computers. Graphics performance outruns its competitors like GeForce GTX  and Radon RX.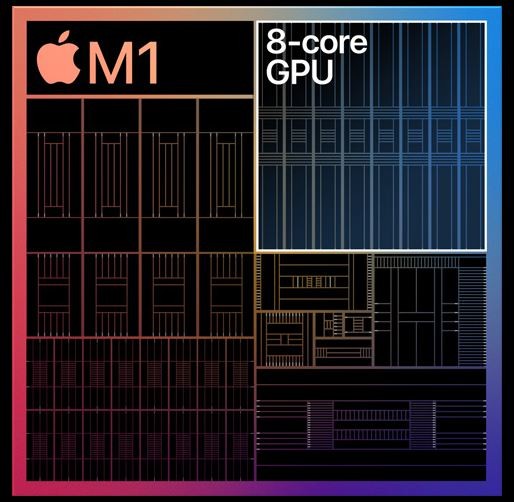 Image Courtesy: Apple
Specifications
| | |
| --- | --- |
| Memory | 8GB and 16 GB |
| Processor | 5nm |
| Graphics | 8-core Integrated GPU with 2.6 teraflops |
| CPU | 8-core CPU. |
|  Architecture | ARM-based |
| RAM | LPDDR4X-4266 MHz SDRAM |
| High-performance cores | Firestorm (4 cores) |
| High-efficiency cores | Ice Storm (4 cores) |
CPU
M1 chip has an 8-core CPU, which has four high-performance cores and four high-efficiency cores. The CPU consumes less power in performing fewer intensive tasks. For a considerable task, all the cores can be engaged at the same time to complete the task more efficiently.
Geek bench shows the impressive performance benchmarks of the M1 chip for the MacBook's Pro, Air, and Mini model. Mac mini earned the highest performance score of  1702.  Here is the geek bench score for all the mac devices having M1 chips based on single and multi-core performances.
| | | |
| --- | --- | --- |
| Devices | Single-core | Multi-core |
| Mac Mini | 1740 | 7634 |
| MacBook Pro | 1047 | 4313 |
| MacBook Air | 1724 | 7578 |
| MacBook Pro (Apple M1 3196) | 1749 | 7622 |
| MacBook Air (Apple M1 3196) | 1706 | 7675 |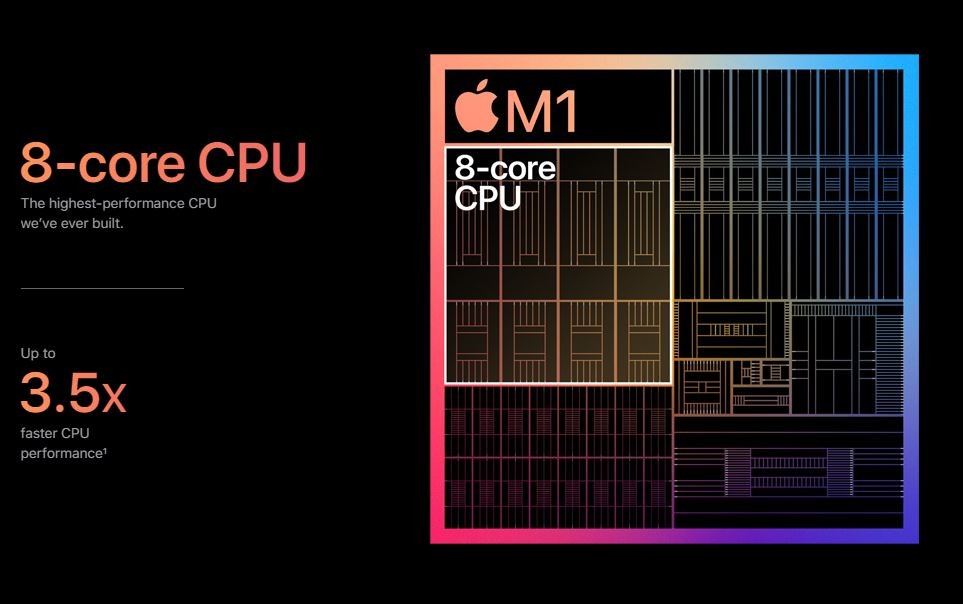 Image Courtesy: Apple
The benchmarks scores showed outstanding performance of the chip on the latest introduced Apple devices.
Battery timing
The battery life that Apple offered in the M1 silicon chip is more efficient than the other chips that got released till now. Along with better speed, this chip has impressive battery timing. The battery management is two times more than the previous generations of Mac.
Speed
The new MacBook Air with an M1 chip is twice faster than previous models. The CPU is 3.5 times faster than before, and GPU has up to 6 times faster performance. Machine learning task capabilities are 15 times enhanced due to the 16-core neural engine. M1 chip consumes 25 percent of power, giving 2x faster processing speed compared to other PC chips.
Security Features
In previous models, Apple had to provide secondary T2 chips to handle the security functionalities along with Intel processors. But M1 chips have these features built-in and don't require any secondary chips. The AES encrypted hardware offers secure and faster performance for SSD.
M1 Processor's Features
Apple's M1 processor is based on the ARM and RISC architectures, due to which the chips inherit the advantage of using a lesser number of addressing modes and instruction formats. As ARM-based chips are already used in iPad and iPhones, it will allow users to use multiple mobile ARM-based apps on the macOS.
Integrated graphic processors and enhanced machine learning capabilities allow fatter and better performance. Heavy tasks are managed by the Firestorm high-performance cores, while Ice storm's high-efficiency cores manage delicate functions like web browsing and essential productivity tools. Chips activate the required core depending on the task's difficulty level, which maintains power consumption.
Enhanced machine learning includes automated video and photo editing, power management, voice recognition, analysis, and many others. Being based in the ARM architect M1 didn't support the apps that the Intel processor supported. So, Apple developed the Rosetta 2 translation layer to run apps initially designed for the Intel chips. The feature will allow the intel apps to run on M1-powered PCs.
You can't run a boot camp for using windows on the macOS, but software like a crossover and virtual assistance of Parallel desktop can help the user run Windows and Windows apps on top of M1 powered macOS.