Apple's ecosystem is known for its exclusivity. If you are a new Apple user, you might have to grind a bit to get a hold of every innovative feature that apple devices offer in their ecosystem. Sometimes even mature and regular Apple users need help to understand some of the features Apple devices offer.
With every software update, Apple adds some new features and removes other older ones that Apple's technical team thinks can cause security issues. Due to this ever-evolving ecosystem, Apple users need to stay updated about how to use these new features.
Apple deliberately does not allow its devices to connect with other devices via Bluetooth for security, including privacy concerns. This is one of the reasons why Apple products are better than android. Even sometimes, you might have to dig a little deeper to get the hang of things. One such issue that Apple users encounter is how to transfer videos from Mac to iPhone.
Macs are a technologically bleeding-edge desktop that Apple proudly sells and constitute a significant part of their digital ecosystem available commercially. For transferring videos from Mac to iPhone, there are practically several ways.
You can sync Apple devices, whether it's your iPad, iPod, MacBook, Mac, or iPhone via Apple iD. The media sharing primary platform Apple proudly calls iTunes is available on all the platforms and comes preinstalled in most of the devices. You can use this application software to sync data from your Mac to your iPhone.
There are three essential methods that you can use to transfer videos from Mac to iPhone.
Method 1: Transferring videos from Mac to iPhone
This method syncs data across various Apple devices. If you are comfortable replacing your data with synced videos on your iPhone, you can use this method. The method involves connecting your iPhone with the Mac via a data transfer cord.
Step 1:
Connect your iPhone to Mac via a USB cable, and iTunes will open automatically. If iTunes doesn't run automatically, then open iTunes on your Mac manually.
Step 2:
Opt the device you want to sync videos too if there is more than one device connected to Mac. Choose the option of "Movies" from the side menu.
Step 3:
Select the box next to "Sync Movies" and then select the movies and videos you want on your iPhone.
Step 4:
Now, click apply to start the syncing process. A notification bar with a status of completion will appear. Unplug the iPhone after the sync is complete.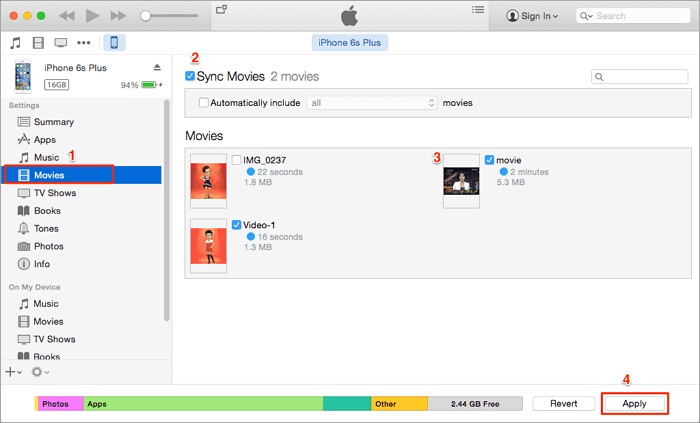 Image Courtesy: Easeus.com
Now you can enjoy your favorite movies on your iPhone. These videos will appear in the movies tab as iPhone will treat them as a movie.
Method 2: Transferring videos from Mac to iPhone over Wi-Fi. Airdrop
Airdrop is a very convenient feature introduced by Apple in for transferring data across Apple devices. Airdrop use Wi-Fi or Bluetooth to share files amongst devices. To use this built-in file sharing utility, make sure both devices support AirDrop and enabled on them.
Step 1:
Turn on Airdrop on your mobile device.
You can turn the Airdrop on by swiping up (for iPhone 8,8 plus and earlier )devices from the bottom, "Control Center" will appear. For iPhone X and later devices, you need to swipe down from the top right corner to open Control Center.
A slightly long-press on Airplane mode will open a new window showing different options, including AirDrop mode, once you have enabled Airdrop on your iPhone. Its time for the next step.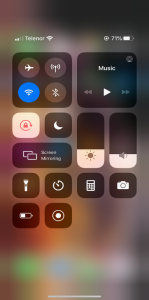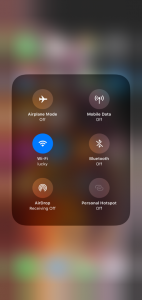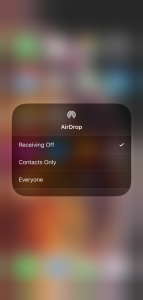 Step 2:
Open the file that you want to send (to iPhone) on your Mac and click on the share button. You can also control-click on the file you want to share in "Finder." Choose the share option from the shortcut menu
Step 3:
A list of share options will appear enlisting available choices to share the video file. Chose Airdrop form that menu.
Step 4:
Choose the device that you want to receive the file on. Ensure that Airdrop is enabled to receive the file, as shown in step 1 on the recipient device.
Step 5:
Receive the file on the recipient device.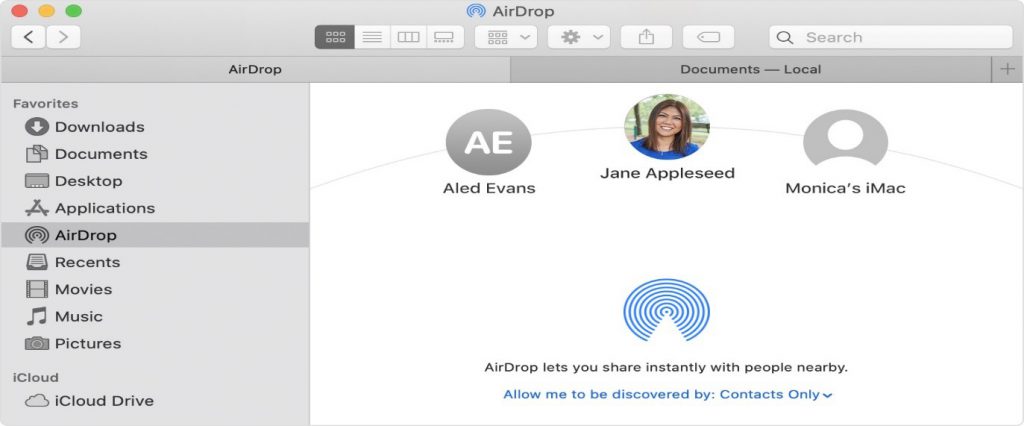 The second method of using Airdrop is also handy. Follow the steps below to share files easily.
Step 1:
Open a Finder window on Mac. From the side menu, choose the Airdrop option. Or select Go>Airdrop from the Menu bar.
Step 2:
A window will appear with all the AirDrop users that are around. Choose the recipient and drag files (photos or videos or documents) on the selected receiver and click send. In case you cannot find the desired recipient, make sure that AirDrop is enabled on that device.
Step 3:
when Mac will attempt to AirDrop a file to your iPhone, a pop-up notification will appear, asking for permission to receive or reject it. Choose the Accept option.
Troubleshooting AirDrop
If you are having trouble finding Mac's recipient, make sure the following features are working correctly.
Both devices are not apart more than 30 feet. Preferably keep devices 1 to 2 feet apart during file sharing.
Both devices are connected to Wi-Fi. Also, ensure Bluetooth is turned
Mac devices introduced in 2012 or after that support AirDrop. Older devices will not provide AirDrop function.
The Mac operating system must be OS X Yosemite or later.
Your iPhone is running iOS 7 or the latest than that.
Personal Hotspot is turned off.
Make sure that your devices are visible to each other.
For iPhone, make sure that you can receive a file in the Airdrop window. You can set it to receive only from contacts or everyone.
For Mac, go to the AirDrop window from the Finder and check the "Allow me to be discovered by" option, so your device is visible.
Unblock incoming connections from Firewall options in the setting menu
These solutions can help you resolve issues regarding AirDrop, but if the problem persists, contact Apple Support.
Method 3: Use 3rd Party Apps from App Store
There are several 3rd party applications available on the app store that you can use to share files between Apple platforms. Famous Applications like iMazing and Easeus Mobimover. These apps are great utility to have in the pocket to share files and media.