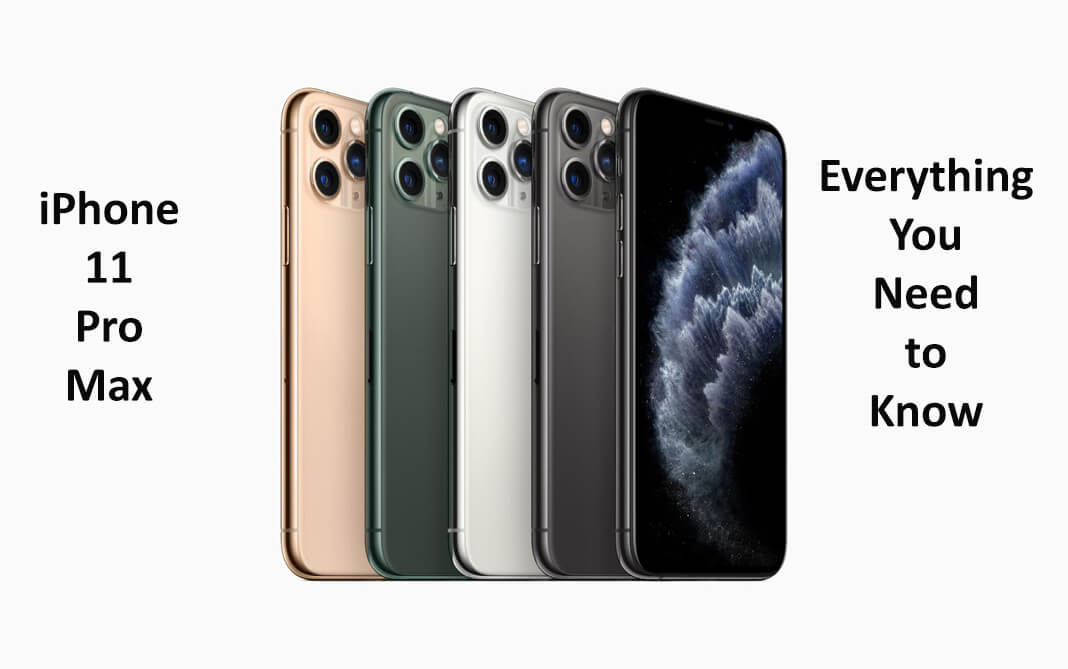 Apple on 10 September 2019 launched and on 20th of the same month, released the new iPhone 11, Pro Max, with triple-lens cameras, A13 chips, faster Face ID, Night Mode, shatter-resistant glass, improved water resistance and that is not it, we have a list of helpful features an updates under the section of praiseworthy aspects.
Availability and Pricing
The iPhone 11 Pro and 11 Pro Max are available from the Apple online store, Apple retail stores, and third-party retailers, with orders being shipping out within a couple of days. The iPhone 11 Pro Max is priced beginning at $1049.99 for the 64GB model, with a 256GB storage, it is available for $1179.99 and a 512GB model available for $1259.99.
Praiseworthy Aspects of iPhone 11 Max Pro
iPhone 11 Max Pro truly is a smartphone of many new features and updates that were much necessary and promised even before the launch. Here lies the list of certain aspects that painted its launch as a necessity, if a new Apple's phone model is to be released in the market.
Also Read: Features of iPhone 11 Pro Max
Camera Quality and Performance
Apple always stayed famous for its excellent cameras in its smartphones. Three 12-MP cameras, including a zooming focal point that takes into account 2x zoom, and another ultra-wide-angle camera, can generate photos with a 120-degree field view. It can actually capture some truly sensational shots.
Best Battery iPhone
This latest iPhone update will get five-hour additional battery life over the previous models available. Presently, with the 11 Pro Max, the option to get a stunning measure of work done on a single charge is valid. Apple incorporates a huge 18W charging-brick, boxed up with the iPhone 11 Pro Max, alongside, a Lightning-to-USB-C cable. Both of them if used together, the smartphone charges quickly.
XDR Display
iPhone 11 Pro Max has a super retina screen with XDR display, which Apple states as its best ever display that had ever been used in an iPhone. This Super Retina display update supports Dolby Vision, HDR10, and wide color range for unparalleled accuracy of colors. The True-Tone support is incorporated, permitting the iPhone's light sensor to equalize and change the white balance of the display as per the light requirement of surroundings
Resistance Against Dust and Water
Apple has to do something about its resistivity to external agents, making it resistant against water up to 4 meters for 30 minutes, and obviously dust-proof. That pretty much causes me to feel great taking this smartphone to the seashore without a plastic baggie. Apple says they're produced using the hardest glass ever in a cell phone and offer improved water resistance
Durability
Proving its high durability, Apple claims that all of its products are produced using the hardest glass ever that could be used in smartphones, so theoretically, it is meant to hold up better to accidental knocks, is able to stand against the drops or scratches, it suffers. It makes your device less prone to be affected by minor damages.
DOLBY ATMOS
This model came with another spatial sound feature that is intended to imitate surround sound for a progressively vivid sound quality experience. It additionally supports the characteristic feature called Dolby Atmos sound. Each and every audio cue and vocals feel substantially livelier, while they sounded compliment on the iPhone, Apple released last year.
Shortcomings OF iPhone 11 Max Pro
All these praiseworthy features of the all new iPhone 11 Max Pro not at all means that it is a perfect smartphone, nothing really is perfect. There also existed some of the deficiencies as they were reviewed negatively by iPhone users. Stated below is a list of some of those problematic attributes.
The Camera Bumps are Frenzy
The massive, awkward, triptych of camera lenses sticking and emerging out of the rear side of the iPhone 11 Pro Max look aesthetic and stuns the teens but mostly grownup reviewed them as nothing but pure madness.
Slofies are Senseless and Annoying
The innovation in the camera that got the most time in front of an audience at Apple's launch event was this new moderate movement video selfie feature that produces what Apple named as "slofies". They can make the unremarkable look dramatic, it's like how many hair-in-the-air Slow-Mo videos can you really take before your friends get irritated or annoyed. Likewise, it didn't even get trended for a long time.
Slippery Smartphone
I don't have the foggiest idea whether it's the new glass, or the size of that camera bumps on the rear. It is found that the smartphone slips off from pretty much every surface that isn't totally flat. After new brushed finishing on the rear, it does feels pretty stunning look while you are holding it in your hands.
Not Being Able to Use, While on Table
What's new was that the Face-ID, the security system that utilizes all the sensors on the front side of the iPhone to verify the owner, is 30% quicker than it was on older cellphones, and can be utilized from a more extensive set of angles. Despite the fact that it is still irritating that on the off chance that you need to respond or just even check a notification when it's on the table, you'll miss Touch ID while picking up the phone to unlock via Face ID or having to enter 6-digit pin for unlocking.
Same Design
Except for the giant, not good-looking, trypophobia-inciting camera bumps present on the back, the structure of this phone is almost indistinguishable from last year's XS Max, that itself was only an extended version of the iPhone X. It's to some degree unusual to think of another "Pro" nomenclature for this cell phone.
Extremely Expensive
This is definitely not a cheap gadget that everyone can afford. Other than a couple of progressively whimsical smartphones, e.g. Samsung's Galaxy Fold, it's essentially the most costly cellphone among all, released till today. The iPhone 11 Pro Max is priced beginning at $1049.99 for the 64GB model, with a 256GB storage, it is available for $1179.99 and a 512GB model available for $1259.99. This is a lot of money to be spent on just a phone.
Generic Overview
The design-plan of the iPhone 11 Pro Max will be natural to most, with a similar design pattern as the past two models of X series, in spite of the fact that the matte back gives a decent feel in the hand. The 'Max' size won't engage all, however, it facilitates the enormous and noteworthy 6.5-inch OLED show, which offers a splendid artistic and cinematic experience, both visually and through the updated speaker's sound system.