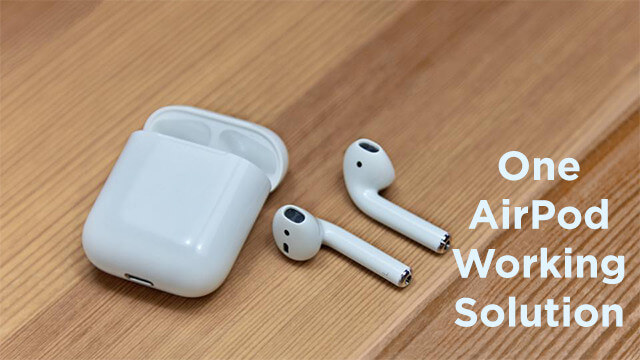 Apple released its own 1st generation Bluetooth wireless earbuds, called AirPods back in 2017 for the first time. Despite the fact that both the models, AirPods and AirPods 2 were designed such that they are compatible with all of Apple's Bluetooth supported devices. They work seamlessly most of the time but that doesn't just determine or proves its 100% working rate. An aggravating issue that happens sometimes is that one of the AirPods drops the connection without any specific reason. It really is a mood-breaker when you are busy watching some movie or just listening to music and all of a sudden, you realize that it's just one AirPod that is functioning. Well if you too are victim to this problem sometimes, you don't have to worry or waste any more of your time. As stated below are some simple methods that would help you resolve the problem of only one AirPod working at a time.
One AirPod not connecting – How to fix the problem:
Well if you too are victim to this problem sometimes and still wonder "Why is only one AirPod working?", you don't have to worry or waste any more of your time. As stated below are some simple methods that would help you resolve the issue of only one AirPod working at a time.
1. Cleaning Your AirPods.
AirPods are used almost every time throughout the day, no matter wherever you go. From having morning walks around in a park while enjoying music to using them as headphones alternative while watching a movie in your bed. So it's clearly noticeable that you must clean your Pods regularly because the dirt, fiber, or in fact your earwax that makes contact with your gear daily would keep on accumulating until it totally obstructs the sound from your AirPods. The best strategy to clean the AirPods is simply using a dry cloth, but it surely is preferable to use a microfiber cloth instead. This is just to avoid lint accumulating over speaker grills which can make it even worse. Another precautionary measure for their safety is just putting it into its case first before putting it inside your bag or pockets. It would lessen the chances of your AirPods being clogged up by such lint or debris.
Also Read about Apple AirPods Pro Features, Price and Everything
2. Disconnect/Reconnect
If you are habitual and a daily user of AirPods, you would've understood by now that everything is totally Bluetooth and iOS. It is obvious that "plug-out" your AirPods just intends to un-pair the AirPods from the settings of whatever device you are using and afterward reset your gadget. For resetting, you just would have to go through a couple of additional steps, that are as follow:
Pick up any of Apple's devices, maybe iPhone, Mac, or iPad, open Bluetooth settings, simply tap the option to Forget the Apple AirPods.
Subsequent to this, put your AirPods back in their case with their lid open.
All you have to do now is press the little reset button at the back of your case for a minimum of 15 seconds, and release it only when you see golden light blinking beneath.
That's it, your AirPods just got reset. Moreover, restarting the gadget is also recommended just to be sure. You can now pair it as new and this 'One AirPod not connecting' problem won't trouble you anymore.
3. Modifying the Stereo Settings.
You would have experienced scrolling through the settings and you come across that particular option that moves the sound from left and right and inverse. This was added for helping hearing-disabled users. If your AirPods are just playing in one ear or if you get to know that both your AirPods contrast in loudness, most chances are that this setting has been turned on unintentionally.
For iPhone:
Go to settings and tap on Accessibility settings.
Tap on Audio/Visual under the hearing category.
Alter and balance the slider is halfway between L and R.
Simply flip the Mono Audio switch over the slider to the off position.
For Mac:
Go to System Preferences and open Output under Sound Category.
Once in the Sound Output menu, select your AirPods.
Adjust and Balance the slider, close to the base of the screen, in halfway between Left and Right.
Launch System preferences again and tap Accessibility.
Uncheck the option of Mono Audio under Audio Category.
4. Try Pairing another BT Headphones
In the case that none of the aforementioned ways has worked so far, another incredible way is to attempt to find out the root of the problem. Just to find out whether the problem is with AirPods themselves or is it actually a connectivity problem. For this, you would have to do this little test. Simply go ask your family or friends if they have an extra pair of Bluetooth headphones. It is preferably better to test with a pair of AirPods, if available. This little effort would help you diagnose where exactly the problem is.
5. Update the Different Firmware Version for the AirPod
The troublesome challenge of One AirPod not working can emerge when the firmware of one AirPod is not in coordination with the other. Either one of them would've already updated its firmware whereas the other didn't, causing non-pairing between the both. Firmware can be checked in the AirPod section under the General settings of the gadget. Once you get to know which one of your AirPods has outdated firmware, you just have to leave that one connected to your iPhone and place the AirPod in its case for charging. All you have to do is to keep it within the iPhone BT range with an active internet connection. It would take around 2-3 hours for your AirPod to get that update.
6. Contact Apple.
Just in case, doing any of the above procedure doesn't solve this situation, the only option you are left with is replacing your AirPods. Only if you have bought the pair for less than a year ago, Apple will compensate for your loss with its cost-free replacement. This might not seem like a helping guide but these aforementioned tricks and strategies are what the folks at the Apple Support Center will do and for this, they would definitely charge you an expense. So why not explore your gear yourself and save yourself a handsome amount? However, if you feel like not burning furthermore of your time, going right to your closest Apple Service Center and communicating the issue to them is the best you can do. Moreover, you can seek online assistance by contacting Apple's Customer Care Services.