Do you want to use your iPad as a laptop, or do you want to use your iPad as a main writing or typing device? If yes, then this article will help you decide what to buy for the ultimate typing experience. A considerable number of accessories and spare keyboards are available online and, in the market, but we will compare the top two contenders for the best folio title. Let's start to explore the Apple Smart Keyboard Folio vs Logitech Slim Folio Pro comparison and help you decide what the best buy for you is.
iPads are expensive devices, and Apple proudly presents them as the most superior tablet-type PC's and rightly so as they pack tremendous computing power. iPads are also known for their multitasking prowess coupled with sleek and practical design. Many iPad users want to get more from their devices and want to use them as a laptop. The Apple accessories for iPads and iPhone are essential for protection.
Apple came up to fulfil the needs of the users by introducing a folio case that can both give protection to the invaluable iPad as well as a keyboard to type and use the iPad as a writing device. Since the introduction of Apple Smart keyboard folio. Other competitors also jumped into competition with Logitech being the most impressive.
What is a Keyboard Folio?
A keyboard folio is a kind of protective case with a keyboard. The folio case attaches with the iPad via Bluetooth or a connecting pod, and you can have the writing experience from your iPad. It doesn't only provide utility but also the protection from accidental drops and scratches from sharp objects.
Let's discuss the best protective folios for the iPads.
Apple Smart Keyboard Folio
When Apple says that the keyboard folio is smart, they mean it. The Smart Keyboard Folio is slim, sleek and doesn't bulk up the iPad. It's easy to carry and doesn't add a lot of extra weight or thickness while offering a great deal of protection.
What does it support: Apple smart keyboard folio is  compatible with following iPad models,
iPad Pro 11-inch (2nd generation)
iPad Pro 11-inch (1st generation)
iPad Air (4th generation)
Why you should go for Apple Smart Keyboard folio: First of all, it's Smart and does not need any charging port. You will be buying a keyboard folio case for a keyboard, and it is no doubt a great keyboard with very comfortable keys that gives a satisfying feel when typing. The buttons are snappy and produce a clicky sound upon pressing. Keys are evenly spaced, and no clumsiness issues.
The case is made up of leathery silicon rubber based material with two adjustable viewing angles. iPad is housed on the magnetic top portion. The folio connects to the iPad via Apple Smart Connector, and the whole case gives a premium feel while holding, touching and using the folio cover.
The drawbacks: The Apple Smart Keyboard Folio is excellent, but it is expensive starting at 179$. It's a hefty price tag, and other competitors offer much more at lower prices. The case does not have accommodation for the Apple pencil. You might struggle using the keyboard in dark situations as there is no backlight. The cover is lightweight but does not offer much protection. There is no protection at corners, so in case of a drop, iPad can still suffer damage at corners that can spread to other areas.
Logitech Slim Folio Pro
The Logitech Slim folio pro is an alternative to the Smart Keyboard Folio by Apple, and it is pretty amazing. The folio is designed to give the iPad an excellent laptop-like feel and provide maximum utility to the users rather than just a case that houses a device with a keyboard. The Slim folio pro is relatively cheap as compared Smart Keyboard Folio. Let's dive into the details of the Slim Folio pro.
Compatibility: Slim folio pro works excellent with 3 iPad models, and its compatibility makes it even more desirable if you have more than one iPad. It works perfectly with the following iPad models.
iPad Pro 11-inch (2nd generation)
iPad Pro 11-inch (1st generation)
iPad Air (4th generation)
Why You should go for Logitech Slim Folio Pro:  The slim folio pro is a great accessory to compliment your iPad. The Keyboard folio connects with the iPad via Bluetooth and does not connect via Apple smart connector. The Bluetooth connectivity is seamless, and the folio has an auto on/off feature that adds more utility to the case. The feel of the casing is ultimately premium and sturdy when you hold it.
The case has the internal battery that can run up to 3 months with a single charge and you can conveniently charge it with a USB Type-C charger. The keyboard has an Auto Sleep feature that helps it to conserve the battery life.
It is a backlit keyboard making it very useful to use in the dark surrounding or if you are working outdoors at night. The backlight is adjustable at low, medium or maximum brightness, a convenient feature indeed. The keys are soft, provide excellent typing experience, and the reliable build quality of the keys give a great feel while typing.
The keyboard has several function keys as well, and you can use these shortcuts to increase productivity that lacks in Apple Smart Keyboard folio. There are following keys on Slim Folio Pro.
Home
Keyboard Brightness
Search
On=screen keyboard
Media control
Volume control
Screen On/Off
Bluetooth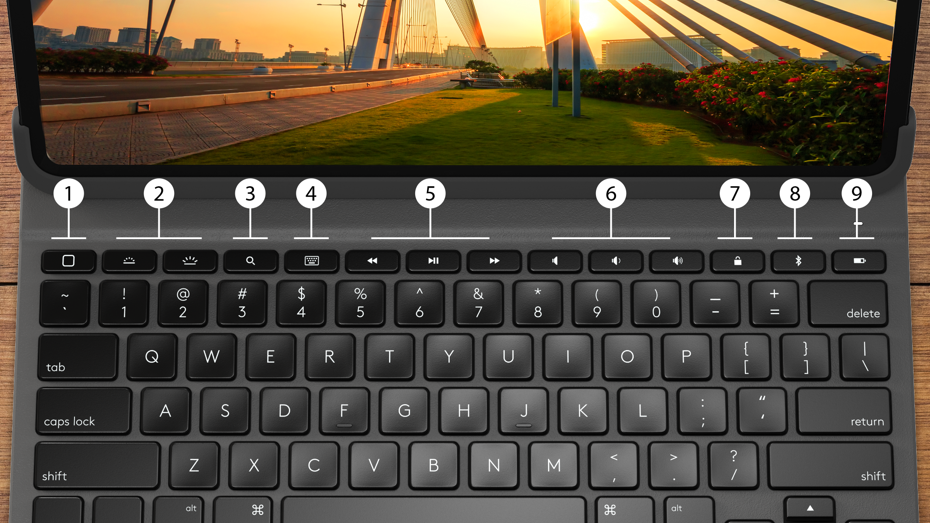 IMAGE COURTESY: LOGITECH
Battery LED indicator and check key.
It is also good to use a case for your iPad and iPhone. The case also offers an incredible amount of protection as compared to just simple scratch protection of Apple's variant. The Slim Folio Pro is made of silicon-based material and is designed to cover all the edges and vulnerable parts for maximum safety. The case has a separate Apple pencil holder as well.
You can use Slim Folio Pro in three modes Type, Sketch and read. It has two adjustable viewing angles in typing mode, and you can use it in your lap as well for typing, a feature that is lacking in Apple Smart Keyboard Folio as it requires a flat surface for better use. The case is priced at $120, and it is cheaper but better.
The drawbacks:
Slim Folio Pro does not have Apple Smart connector. It is also a bit bulky and heavier as compared to the Apple Smart Keyboard Folio. It might be uncomfortable for some people to et out the iPad out of the folio. Due to bulky size and heavier weight, it can be uneasy to carry around.