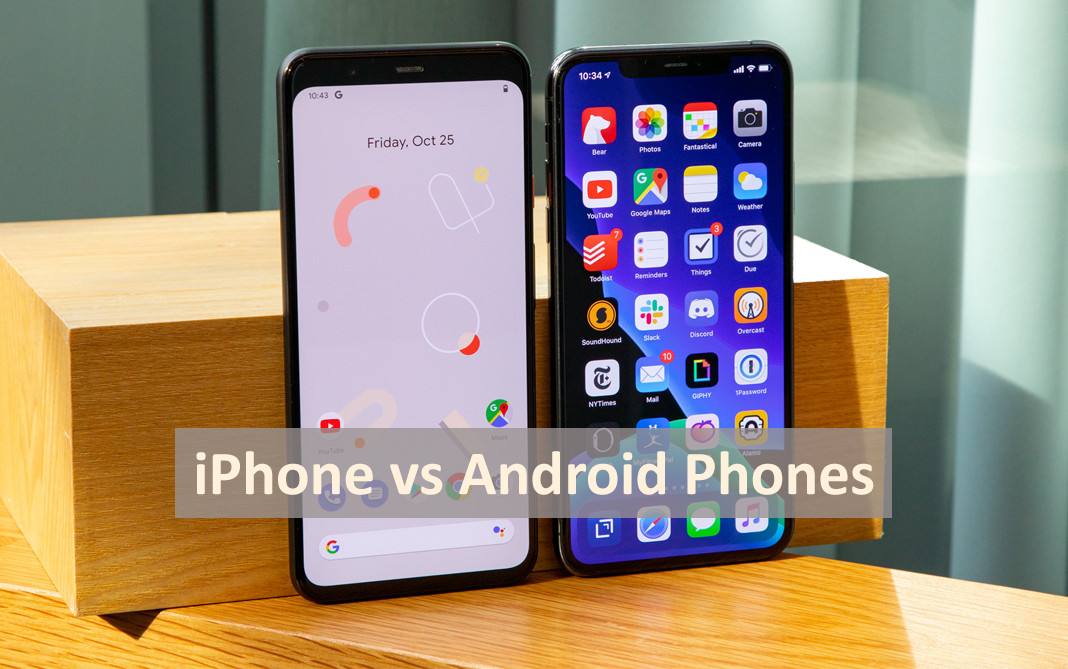 Most phones and tablets run on the two most popular operating systems that are Google's Android and Apple's iOS. Android, which is Linux-based, is more PC-like than iOS. Interface and common features iOS are commonly more adaptable making it user-friendly. Android is presently the world's most commonly used platform for smartphones and is utilized by a wide range of mobile manufacturers. iOS is just compatible with Apple devices, like the iPhone.
Why iPhone is Better than Android Phones
Android Phones are although loved because of their hardware and software customization's excellence. But if someone asks me about smartphones to purchase, I would definitely tell them to prefer iPhone over Android. Not just because of iPhone's better platform, but because its hardware and software smoothly complement each other, making it fast and user-friendly. The following are the reasons why the iPhone is always to be preferred over Android.
Fast Processing Speed
There have been a few testing and comparison of iPhone 7 or more with Galaxy S8 which is basically Android-based. Samsung Galaxy S8 has Qualcomm Snapdragon 835 chip. In tests, the iPhone takes a lead as it begins to open background apps faster than android. Apple's iPhone is always leading in the results because of better software and hardware integrity and having a balance among both sides of the equation.
Also Read: Why IOS is Faster than Android?
Most User-friendly Smartphone
In spite of the fact that Android phone producers make a decent attempt to streamline their skins, iPhone remains the easiest to use the phone till now. A few people say that the look and feel of iOS have not changed throughout all these years however that is practically a plus point as they work similarly like 2007. Simply pick it up, turn it on and the application you need to open is a touch away.
Software Update – Never a Problem
This is another point why iPhone prevails upon Android. A recent report says that nearly 80% of iOS-based gadgets were running iOS 10, the most recent of Apple's OS while Google announced that Android Nougat was used on only 4.9% of the Android-based gadgets. The majority is still using older versions of android.
Developer's First Preference for App Launch
iPhone is preferred by developers for introducing their new or latest apps because of a better launch platform. For instance, a famous social media app, Instagram, got launched on Android two years after it was launched for the iPhone. Moreover, many different applications have been released on Android months after they were introduced for iOS.
Check Features of IOS 13
Excellent Compatibility with Mac
iPhones work very well with Mac. You can send and get instant messages or calls just by keeping your iPhone close by. Using the feature called Handoff, you can begin an email on your Mac and afterward continue on your iPhone from where you have left and vice versa. Using the iCloud feature you can keep everything synchronized. You can have simple access to photographs you take on your iPhone, from your Mac just like notes and documents.
Apple Pay for Versatile Payments
In spite of the fact that Android is attempting with its better Android Pay right now, Apple Pay is the most well-known method for paying via phones. It is, additionally, extremely easy to use. Just bring your iPhone near the supported terminal and use your finger on the touch of your phone ID sensor to make any payment.
The Negligible Amount of Malware
Installing Apple's applications hold certain advantages regarding malware. Apple doesn't let you tinker with the OS in any way, and doesn't let you install applications if it's not available at the App Store. It doesn't allow outsider (third-party) application stores and has stringent measures to defend the app store against malevolent applications.
Superior Music Quality
Apple ear pods are very well known for offering the best music quality. Some branded android phones such as HTC Beats, Sony Ericsson and currently famous, music hit Vivo are very good but iPhone's music stands tall at-least by an inch anyways.
Better Camera Privilege
Pictures captured from an iPhone have higher micron pixels than normal Android cameras in the market which is a major reason behind why photos are more clear. Also, the iPhone camera has a better focal lens to capture every detail in the picture. Megapixel doesn't generally make a difference that much. However, most Android phone producers have been using this property to earn more shares in the market.
Conclusion
With such a large number of advantages of iPhone over Android, it can be comprehended easily that why iPhone is favored more than Android-phone with comes to prescribing somebody which smartphone to purchase. iPhone offers much better-specialized help and furthermore you can update the most recent iOS available, more easily than in Android phones. Well, some people who have been using android for a long time would have a problem shifting to iPhone but if you can do so, it's worth it.